Vacated the room a few minutes past 11am. Bill from Bell Services came down to take our luggage up to Airline Checkin. We always bring a lightweight dorm comforter when traveling to Disney and at the last minute I decided NOT to pack it in my suitcase but rather buy a bag in AP for it.
Airline Checkin for Southwest worked very smoothly. They asked for our ME envelopes, a photo ID and then printed our boarding passes and tagged our bags for us. We each brought one big suitcase. We were told to just gate check our vehicles at the airport. The whole process would save a lot of time for us later. (And yes we did get our bags back on the other end just fine.)
Then we stopped into the Front Desk to straighten out the bill. They charged us for internet again. I think it had to do with how Anthony straightened out our room problem. Looks like our room came from CRO inventory. I should note here that in addition to the room upgrade, points return and $100 credit, Anthony gave us daily maid service as well. He really stepped up SSR's game and turned what could have been a disastrous trip into one of the best we ever had. I plan to write a nice long letter to Guest Satisfaction tomorrow detailing all the wonderful things he did for us. Fellow is in the leadership track for management so it'll be good to help him along with a good recommendation. (I learned he also helped our DVC friends out when there was a mixup with their room in October.)
This time it was Samantha (Sam) who helped us get back our internet credit. Sam had also been working with Anthony during our earlier room snafus. I cannot compliment the SSR front desk staff enough. YMMV but for us they have always been spectacular.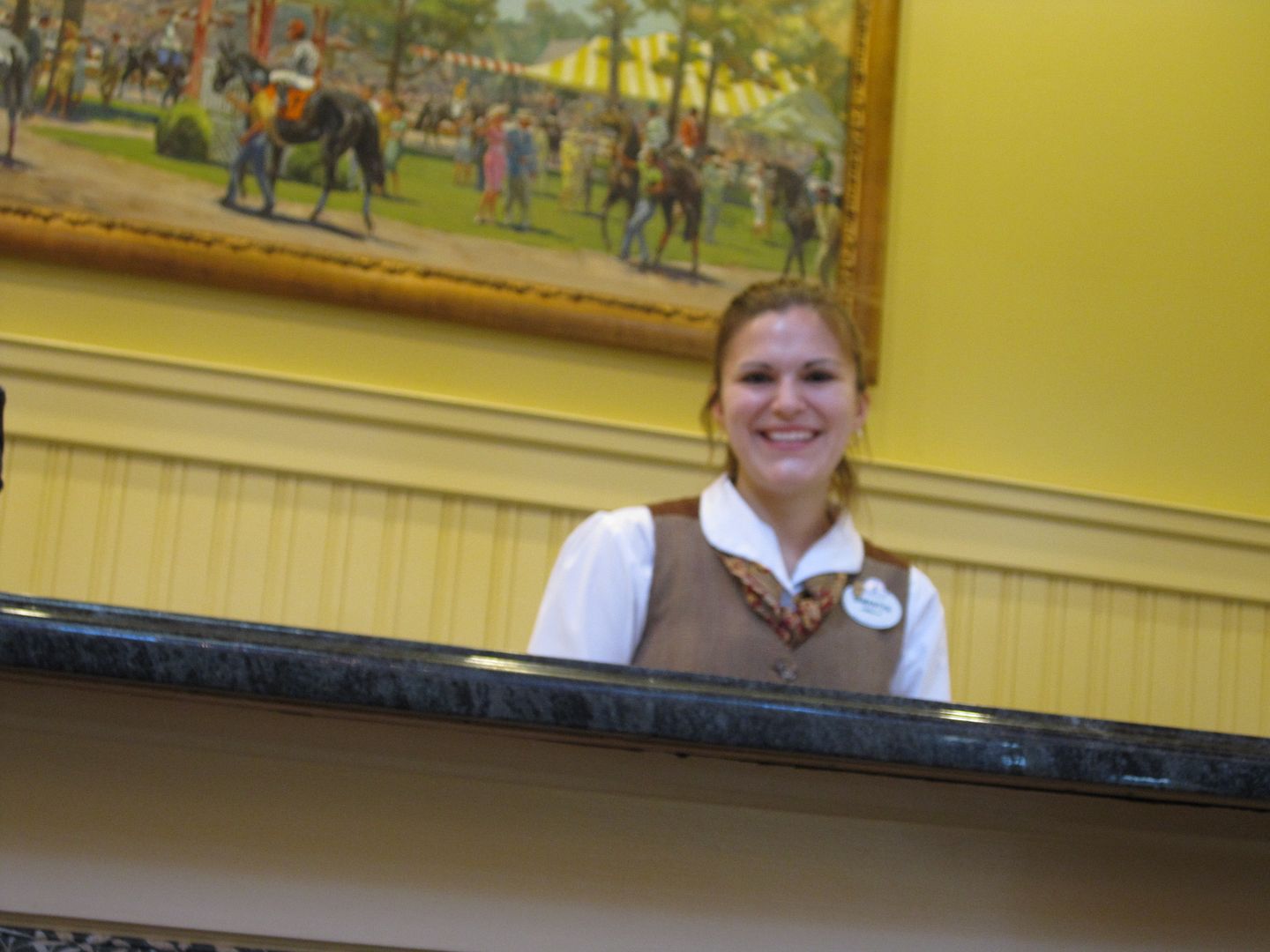 From there we took the ferry over to DTD and had lunch at wolfgang Puck Express. It was a warm day, warmer than yesterday, so we sat outside. Cuz had the butternut squash soup, GM had the chicken salad sandwich and I had a heaping plate of pennette chicken alfredo with peas and bacon sprinkles. So so soooo yummy. Wish my stomach was big enough to finish it all. I have pictures of our food that I'll post later. For now I'm just thinking of how I can make my own version at home.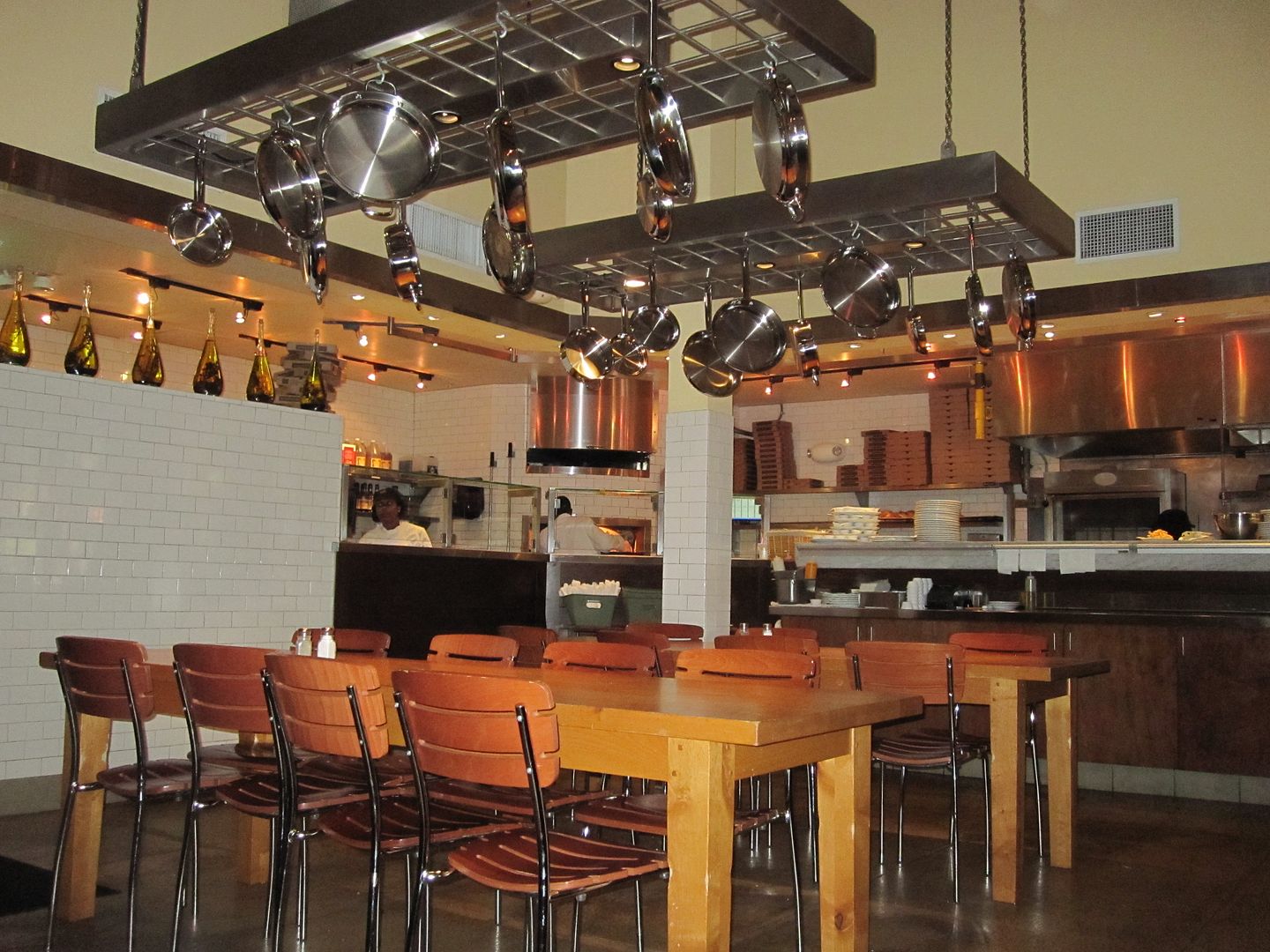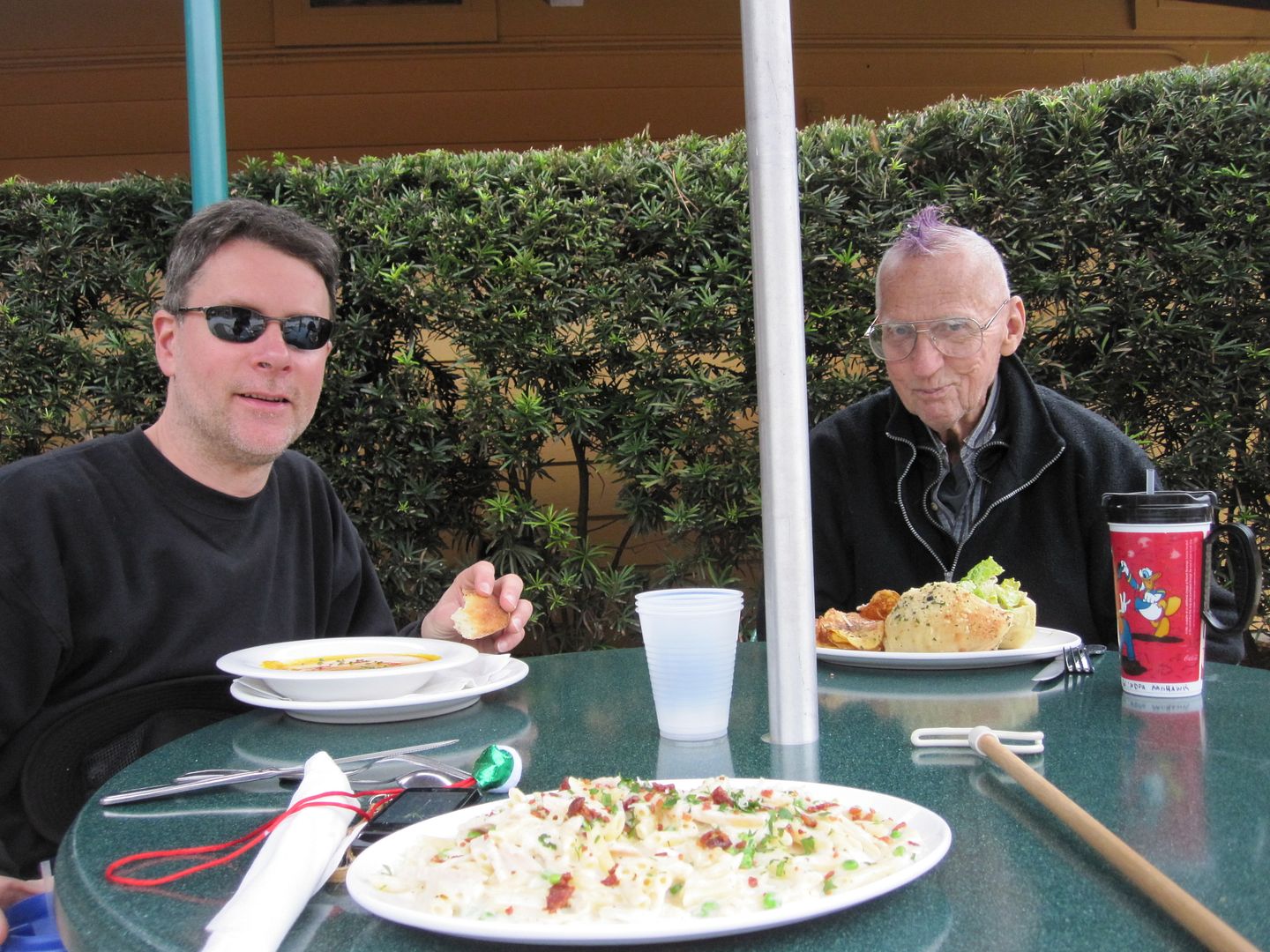 Prices for the Express are far more affordable than the full blown restaurant. And it is on the quickservice dining plan.
Then we did a small bit of shopping mostly for Christmas ornaments.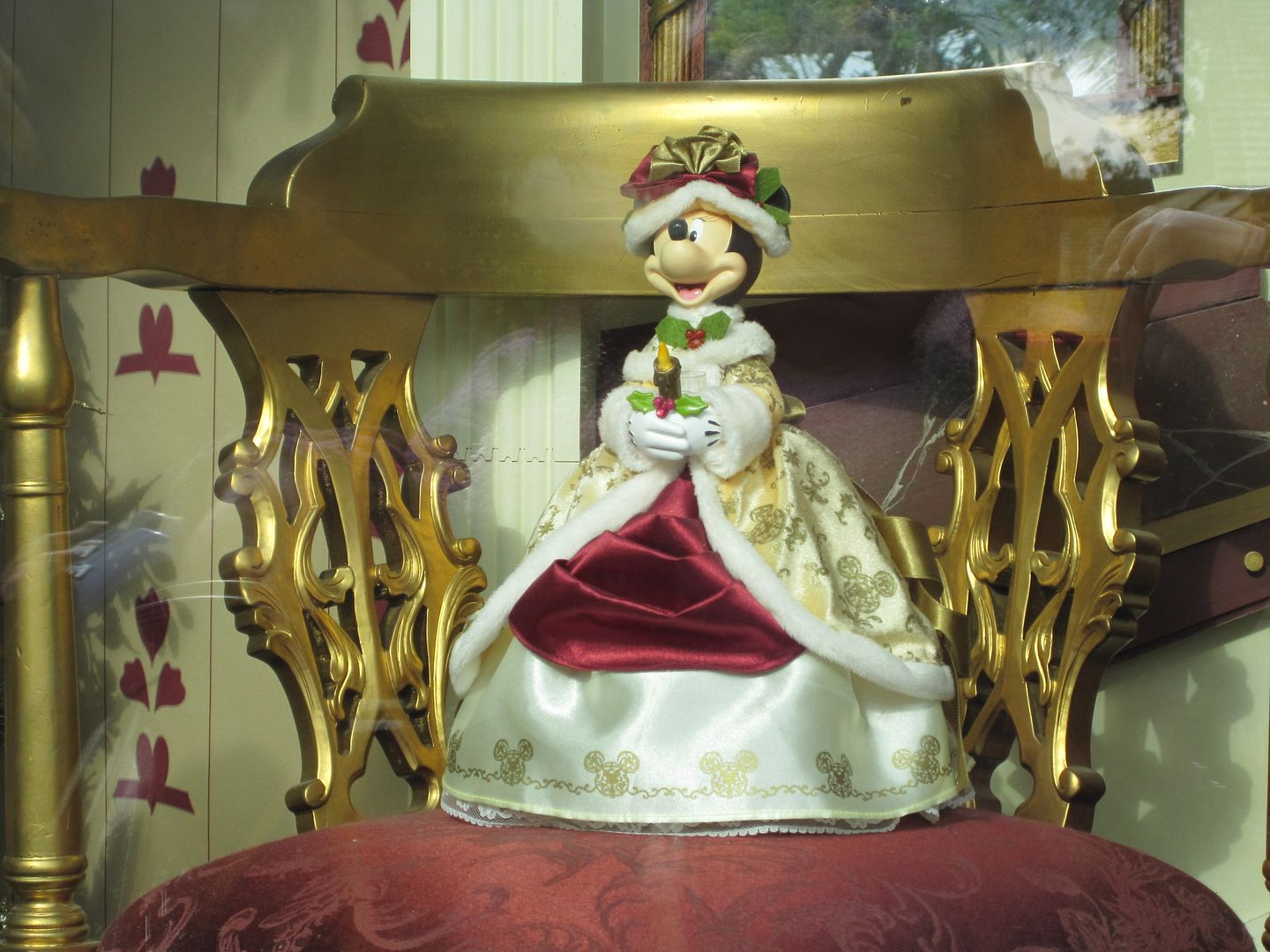 I fell in love with a little Luxor Jr. Pixar ornament the other day when I was buying our new Victorian Tree Skirt. And GM fancied a Mickey head made of multi-color jingle bells. My cuz gifted us a Mickey / Castle ornament that plugs onto your tree in front of a light. The light shines through the ornament creating a fireworks effect.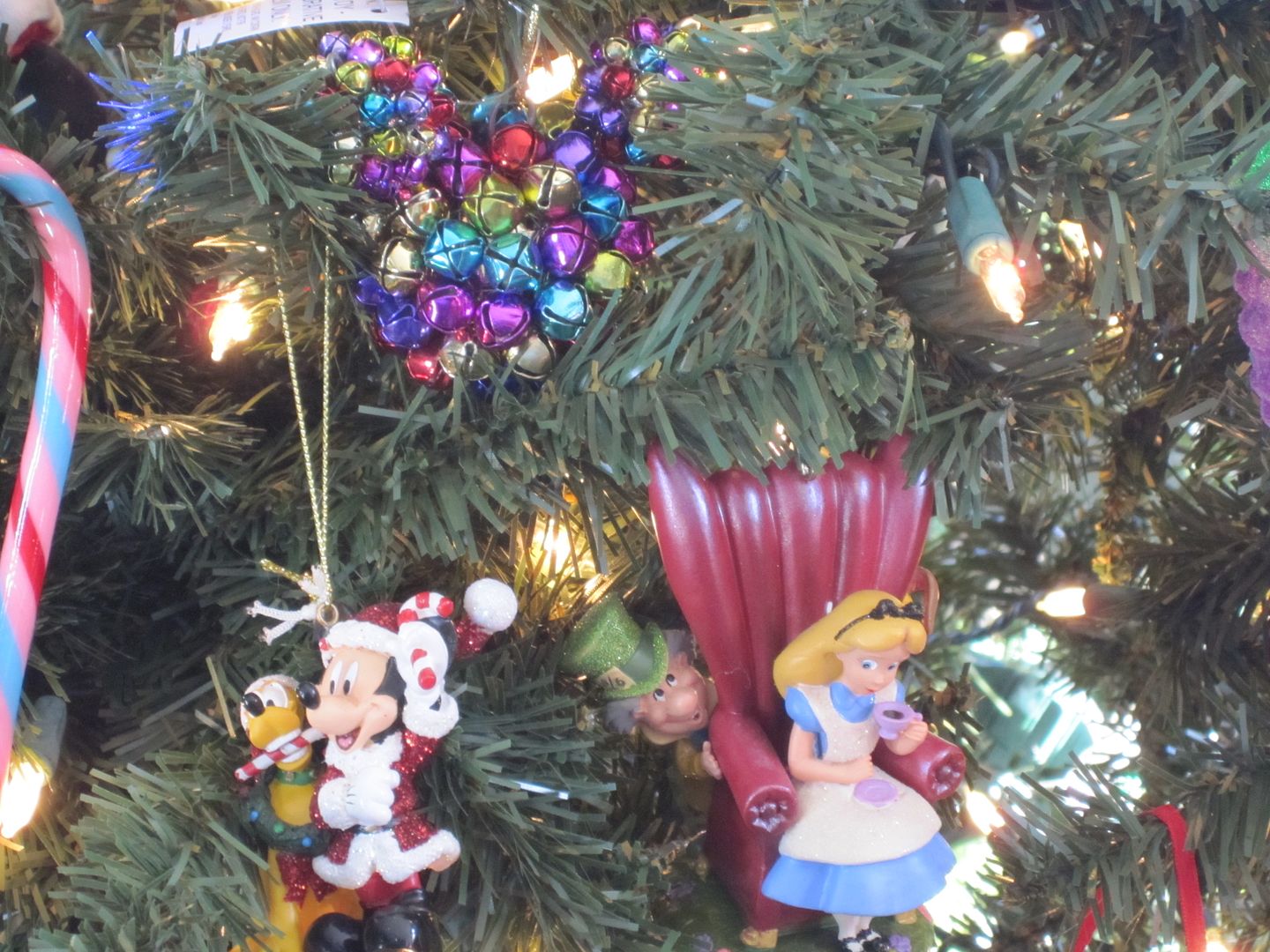 Cuz also wanted to get a couple gifts for the family at home. Some Disney glass ornaments for his parents and a Victorian-style hidden Mickey ornament for the new girlfriend. And based on my advice he also got this really cute plaid cap for her 7 yr old daughter. Hope it goes over well for him. My best advice was that if the cap had been my size it would have been on my head today.
Oh I did pick up a new case for my iPad. It's a black faux leather book-style case with a Mickey embossing on the front. I'd been looking for a good case that had the ability to prop up at different angles for viewing. It was on a little kiosk full of techie paraphenalia by Fulton's.
Then we walked back to SSR taking pictures along the way. That pathway along the lake by Congress Park is beautiful and peaceful.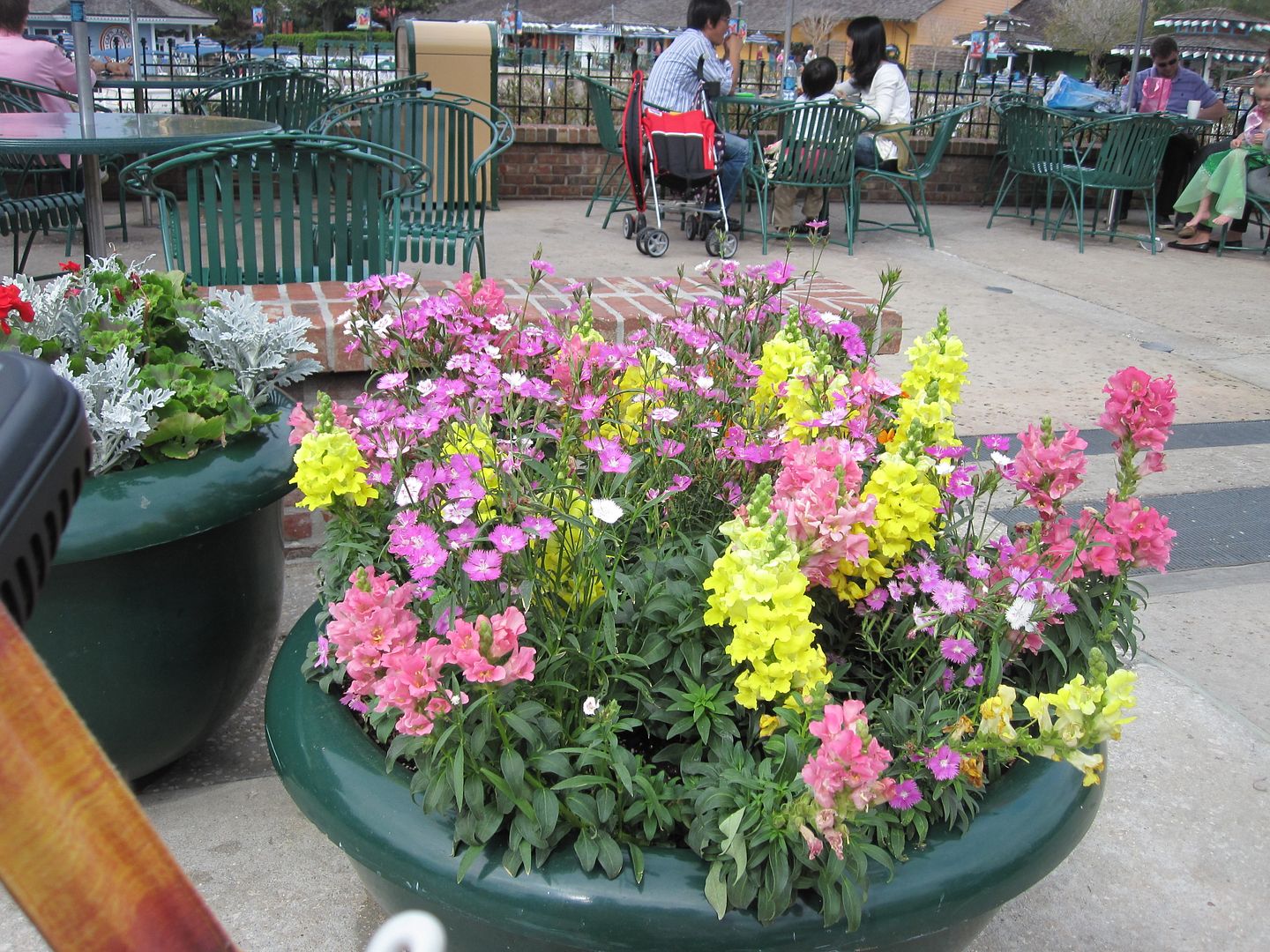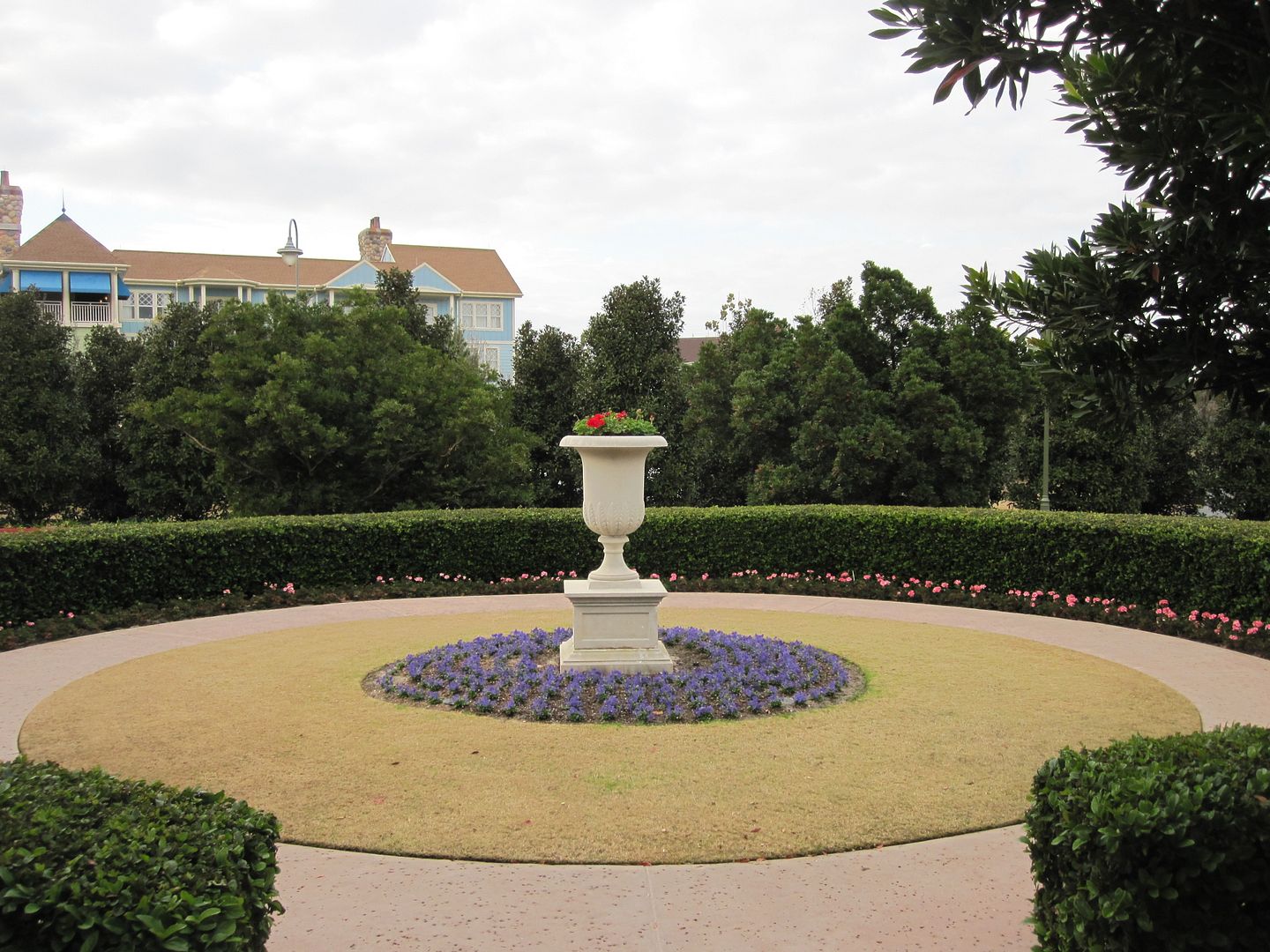 Stopped by Community Hall to hang with Sundee but Eddie (her coworker) told us she called in sick today. I feel so bad for her if she caught what I did. I'll e-mail her later but asked Eddie to give her a hug when she gets back to work.
Then it was back up to the Carriage House for a drink refill, bathroom break and to say goodbye to all our friends. We couldn't find Jill but Elizabeth found us. I really like Elizabeth. She's such a sweet young lady. Oh I should warn you. If you happen to be the family with kids who eats at the Turf Club, I put Elizabeth up to a practical joke. I told her to get real serious as she tells the parents of a new policy: children must wash dishes before they can have dessert. I think it'll work best with kids ages 9-13 and of course a fun sort of family who didn't mind some teasing. I'd love to see the look on the kids' faces.
Tonight was Jill & Elizabeth's family movie night. They went to see Tangled at Pleasure Island based on my recommendation. I'm waiting to hear the review. I think Elizabeth would make a fabulous Sleeping Beauty or Rapunzel one day. She has that sort of face.
Jill had gone off to take a family back to Old Key West and our bus was due to arrive just as she was due to clock out. By the time we got our carryon bags from Bell Services there was Jill rushing over to send us off. (Seems Elizabeth flagged her down as soon as she returned.) We talked a bit trading family stories. They are truly nice people and I hope we get a chance to know them better. We're trying to make plans for May and October (when Elizabeth turns 21).
Our 4:30pm bus arrived exactly on time and was our driver from last year. It had a lift, our bags were long gone to the airport and we had plenty of time to make our flight. All was running smoothly. Too smoothly. I should have sensed trouble then.
Just as I was boarding the bus, GM realizes he doesn't have the car keys for home. He left them in the room… 5 hours ago! And we went to all the trouble of parking at the BWI airport so no one had to come out at night to retrieve us. I also purposefully left my spare keys at home so I wouldn't lose mine and GM could keep track of us.
Lift busses are hard to come by and this one was filling up fast, so we made a quick decision. I'd go on the 4:30pm bus, and GM and Cuz would stay behind and try to find the keys with the help of the SSR Front Desk.
This time it was Tamara who came to the rescue. I was receiving frequent text updates from my cuz all the way to the airport. Tamara got a golf cart and took GM and Cuz down to the room to search for the keys. It wasn't occupied yet but no keys were found. Check with Housekeeping and still no keys. So I texted my Dsis for help while GM & Cuz filed a missing keys report. They were going to catch the next bus and meet me at Security. Then just as they were walking out the door Tamara came chasing after them. Seems Maintenance found our keys and were bringing them around.
GM and Cuz caught a full 5:30pm bus and I'm sure the SSR Front Desk breathed a sigh of relief. Oh what trouble we were this trip. They probably have our pictures up on a dartboard in the backroom by now.
The airport was busy. Our flight delayed a couple minutes, but all went smoothly. GM sat next to a lady from Annapolis with a small service dog (a black Scottie named Piper) and made friends the entire trip. Piper liked Dad so much she crawled into his lap before the plane ever taxied.
So we're home now. The new Disney tree skirt is under the tree. The kitties are happy to see us. Our Christmas lights still work and it is freezing cold again. A high of 25 degrees.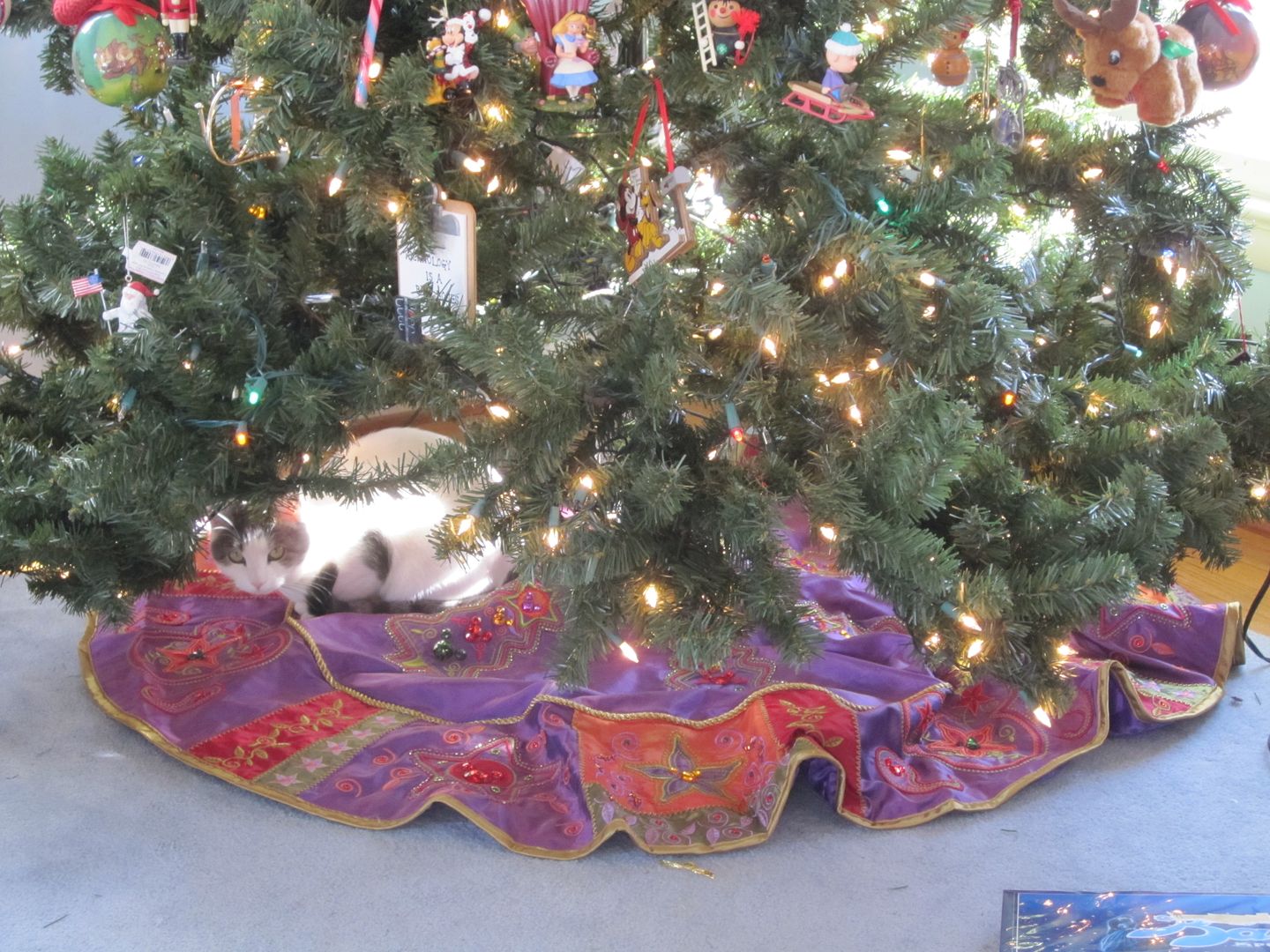 By