Yesterday was cold and wet at home in MD.
There were fears of flash floods on the train route, but we encountered only one delay around Palatka. Heavy fog surrounding the track and some flooding the night before. Got to Sanford 15 minutes later than expected, but we were still off the train and on the road to Orlando by 11am.
And despite the fears of cold and rain here, it was a beautiful summer-ish day. 91 degrees, sunny, hot mid-day and balmy at night. GpaM had me so primed for cold weather that I officially blame him for all the winter weather clothes I packed this trip (fortunately I had brains enough to pack shorts and tank tops as well) and for forgetting the all important luau kit from him. (I'll have to figure out a solution to that one.)
By the time we got to the Swan it was around 12:30pm. Check in was a breeze as was self parking, but our room wasn't ready for another hour. So we went exploring in the conference center downstairs. That place is HUGE!
No conferences this weekend by a big wedding was scheduled for this afternoon. The party would last well into the night.
Our room is on the 5th floor, West Side, and overlooks the Boardwalk Villas and DHS. You can see the Tower of Terror from our window. No fireworks view though.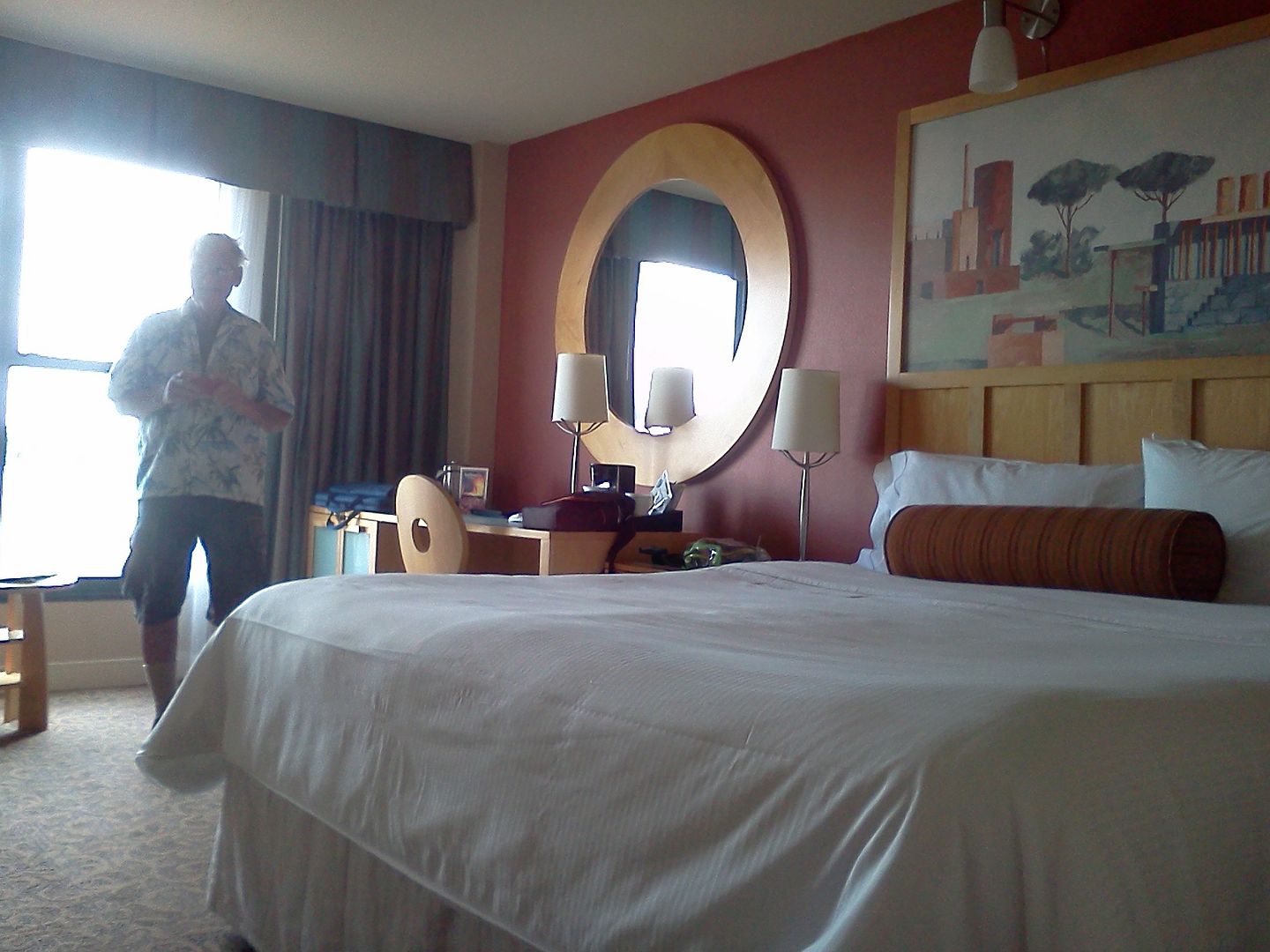 Rooms at the Swan are very nice and roomy. You get a huge desk, another huge dresser, mini-fridge, coffeemaker, LCD TV, and the biggest advantage is a TV lineup that has actual variety of stations. CNN, HN, FoxNews, NFLHD, Food, TNT, etc. not just 15 channels of Disney promos in every language.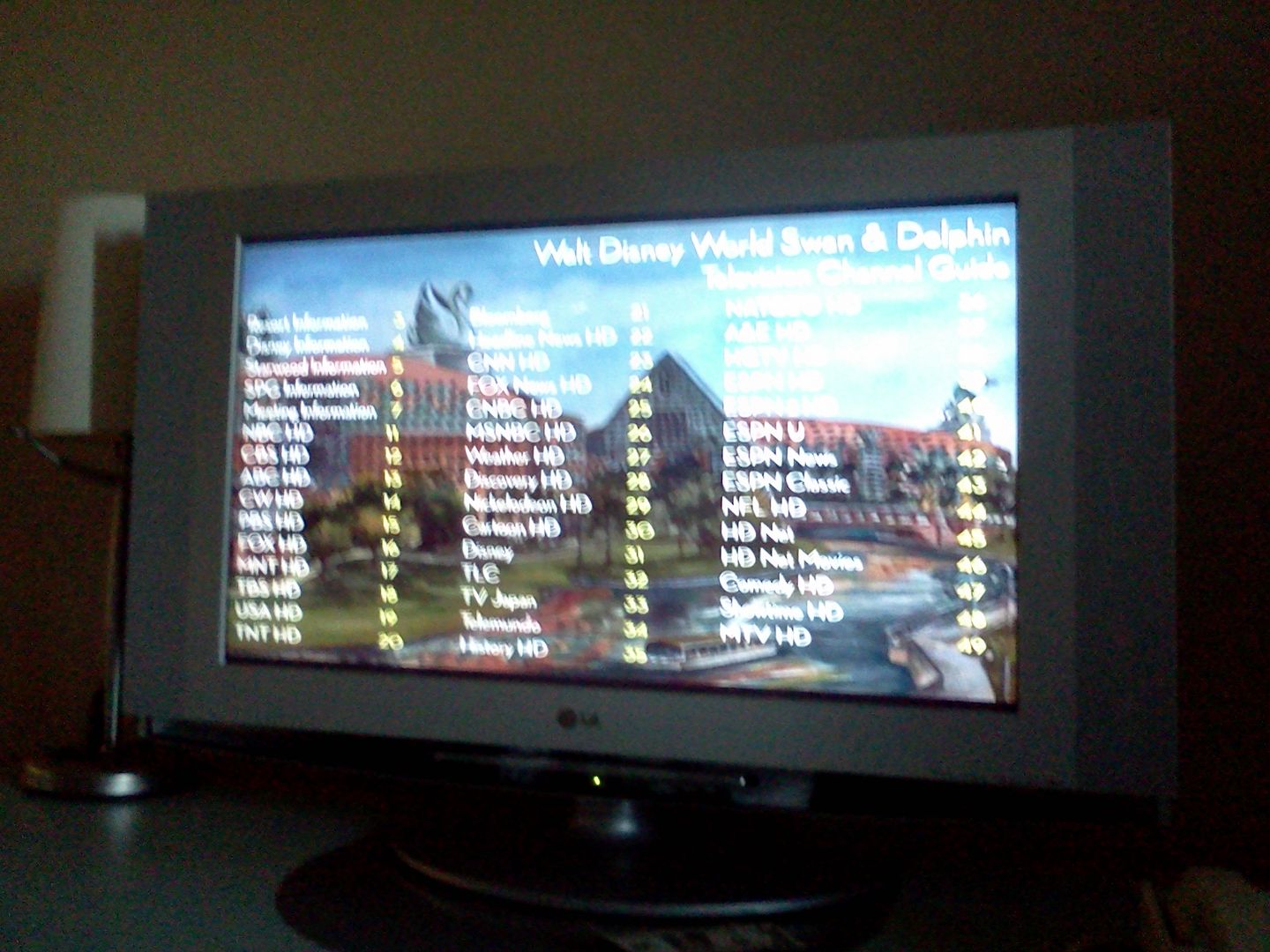 Another special feature of this HA room is the automatic door opener inside the room. Here's GpaM demonstrating it:
We got internet for the night as part of the "resort package". Costs $12/day and is included in reservations. We are staying on our Starwoods Reward Points.
Tim the awesome Bellman helped settle us in our room. He's a very nice fella who always seemed to be around when I needed him. As usual I needed a few tweaks done to make the room more accessible for me. (Like lowering the bed so it wasn't 30″ tall.)
We showered, changed into shorts and headed out to EPCOT for the afternoon. Got snacks in Germany and China. Did a little window shopping. Took lots of pictures of Italy (more special now that I realize it is based on Venice's Piazzo de San Marco). I fell in love with the Venetian hand-painted masks in Italy. My birthday is next weekend so I did a little lobbying for a present.
Stopped in Mexico for churros and we were headed to a fireworks spot when we bumped into Scott, one of our Disney friends. He was at Bay Lake last time we saw him doing recreation. Now he's back at Saratoga working in the Preview Center. As we talked the sky lit up with lightning. A check of our smartphone weather radars and we all figured we were gonna be drenched in 10-15 minutes. So we parted quickly for dry ground.
We made it to the Boardwalk when the radar showed the storm was disolving around the Disney protective bubble. Lots of God's fireworks in the sky competing with the fireworks at EPCOT and Magic Kingdom.
Tomorrow we move to the Boardwalk.
Oh for those of you following my Twitter feed, I've been uploading interesting pics or tips throughout the day. All those pics are also on my PhotoBucket feed: here
The kiosks are up in EPCOT. Food & Wine starts on Friday.
By