BOLO Sighting: Train Station to Orlando (Cleveland Browns Fans Beware)
Everyone in Florida, now is your turn to keep your eyes open. The Grandpa Mohawk Posse is in town!
After a stressful night and day getting packed and ready to skip town, our vacation fugitives arrived at the Lorton, VA AutoTrain station with just 15 minutes to spare. (Why is it you always have a thousand things to do BEFORE vacation?)
By the time they came to collect our van (and be taught how to drive it… yeah special fancy jet airplane like controls), they'd already started boarding. We got our (now standard) handicapped accessible sleeper. (It costs a bit more than coach and about double the price of flying round trip, but NOTHING beats having an overnight ride to Florida AND being able to bring all your stuff, plus your special vehicle.)
We've been doing the autotrain overnight for about a decade now. It's a fun ride, assuming you know what to bring. Comfy shoes, pillow, blanket, charged up tablets and smartphones, lunch to begin your journey (they serve you a hot dinner), snacks, drinks and a change of clothing.
We especially love the view riding through large and small towns in the south. Ashland, VA is the best. The train goes right down main street and you get to see all the fancy Victorian mansions. Christmas time is a treat after dark because so many people decorate with those pretty lights. We enjoyed some nice views of rivers and lakes this time.
Crossing the Rappahannock River in Virginia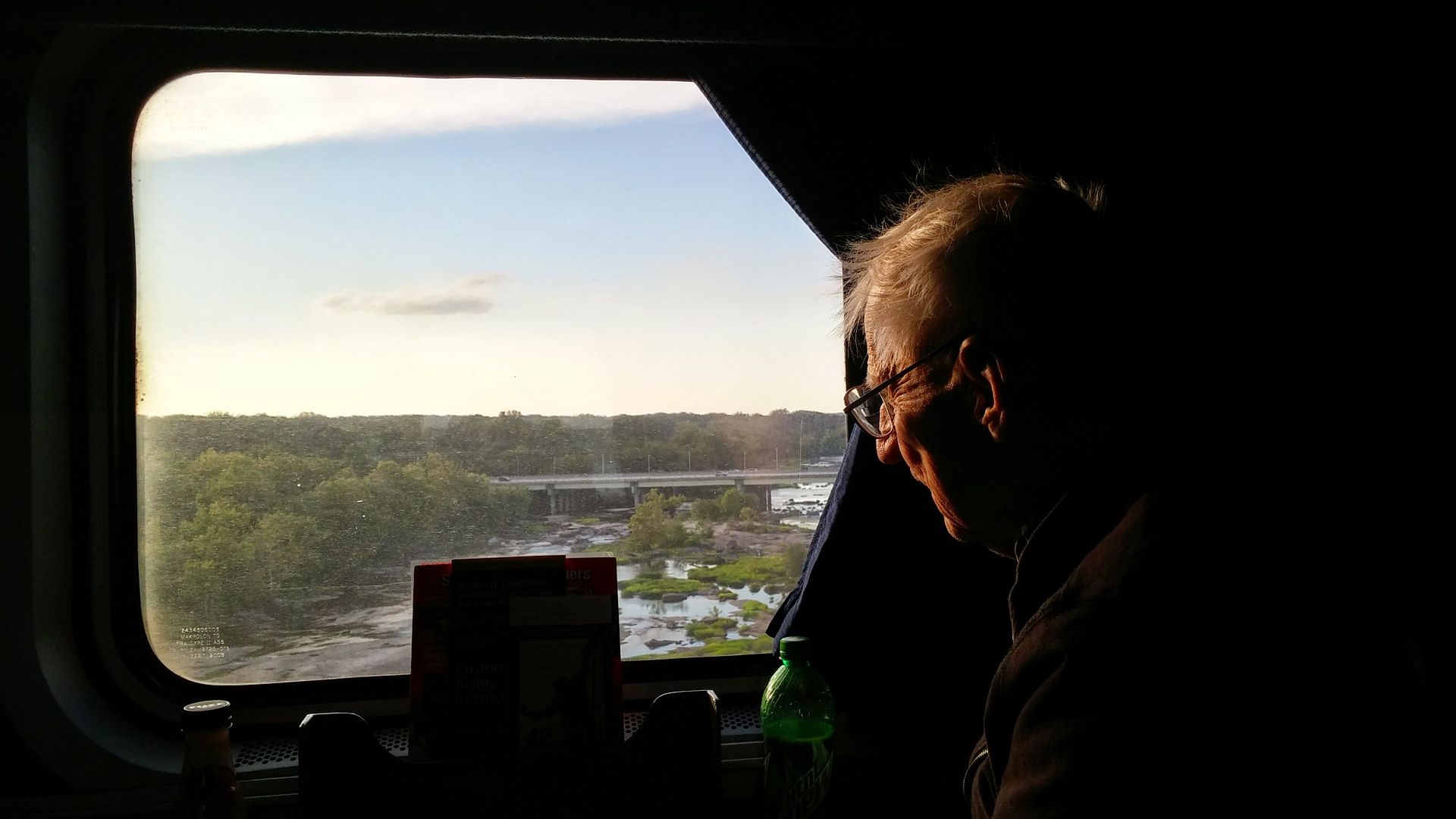 Sunrise over St. Augustine, FL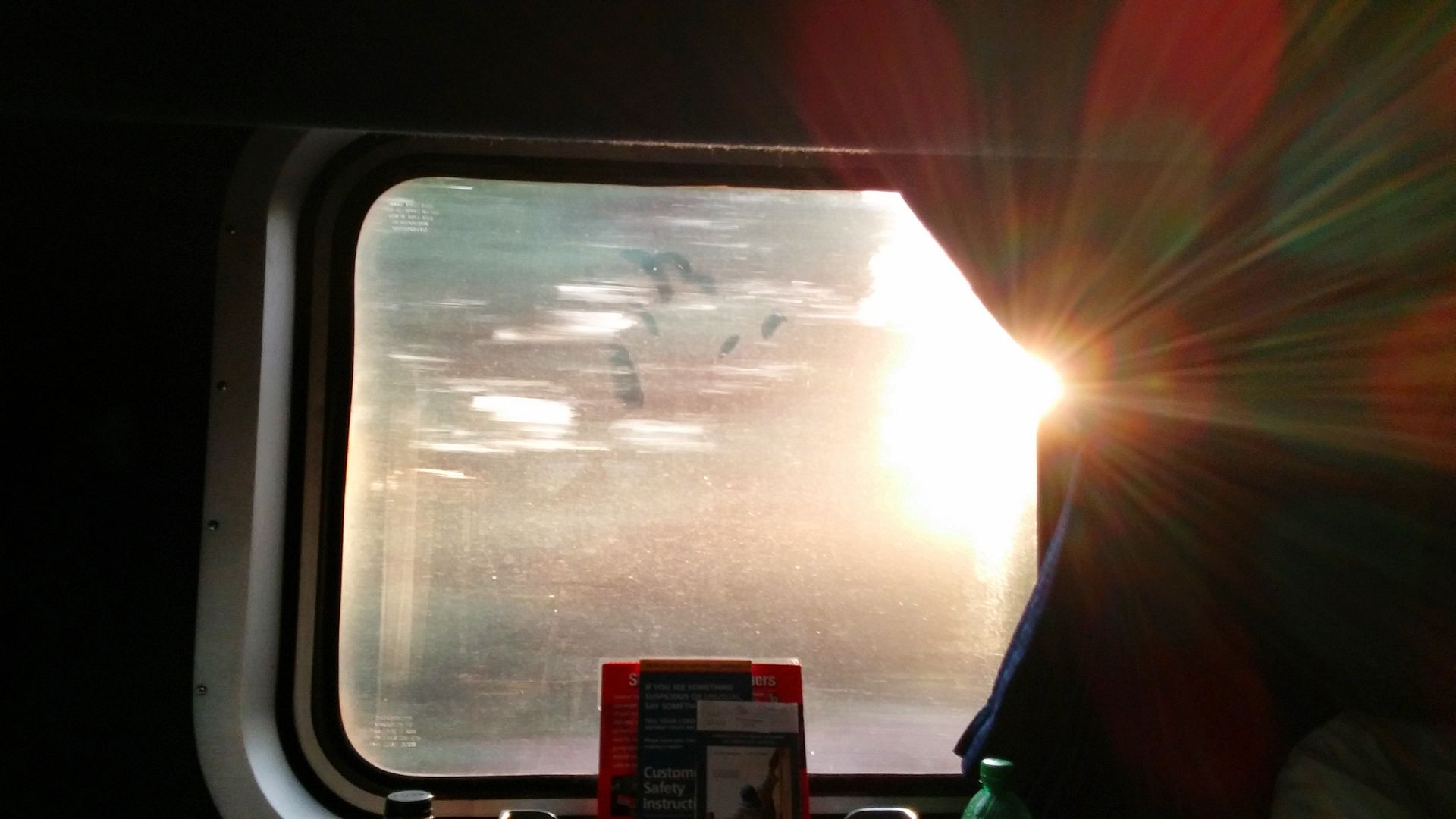 One other benefit: if you have any fear of turbulence, frequent train travel in the south gets you extremely used to it, Those tracks are nasty bumpy in the Carolinas and the engineer flies through Georgia in the middle of the night.
We arrived in Sanford, FL about 9:30am. Didn't get our van off the train until almost noon. Then had an easy drive to Orlando. Turned on the NFL radio and listened to the Ravens-Browns game as we unpacked.
It's 88 degrees here, sunny, hot, humid. The type of weather you don't want to do anything fast. Listening to the game was plenty exciting for us. (We win it with a field goal in the last 4 seconds? Kewl!) My condolences to the Browns fans. That must have been a heartbreaker.
We'll be celebrating the Ravens win by going to the grocery store. Yeah, we're boring people sometimes.
Oh one tip for any Marriott Cypress Harbour fans: they are doing lots of replenishment around here. Bridges over the water, sidewalks being repoured, pools redone… Project lasts until 2016. It's not horrible, but may interfere with your stay in some sections. On the bright side, they also renovated the free WiFi. Say goodbye to crappy AT&T WiFi. Now I'm getting 30mbps download/15mpbs upload. So yes I can work down here. (Just please don't tell my clients.
)
Laters!
Jen
By