Day 4: How the Queen does it and "Practically Perfect in every way"
Friday, August 24, 2007
Hello all,
So the 4th day of our adventure has drawn to a close and I'm happy to report the day has been a rousing success. In fact, due to the nature of accessibility accommodations we used we were treated to backstage and royal service. Suffice to say the old Duke of Wellington (the current one) has quite a few lessons to learn from his queen.
Goal for the day: Tour Buckingham Palace at 9:30am then Mary Poppins in Soho at 7:30pm.
The weather forecast says it will "clear off and be sunny", but of course like every local we've learned to ignore any and all forecasts by now. So we don our extra layers, prepare for another drizzly day and are pleasantly surprised by dry skies. No sun and a stiff wind, but at least we won't be getting soaked.
Buckingham Palace is exactly 1 mile from our hotel and on a street where no busses run. It's far too close for a taxi and yet Grandpa Mohawk worries he'll be too stiff to walk it. So we rise at an ungodly hour of 6am, shower, dress and set out at 8am. It's too early for the tourists but the height of the Friday morning London rush hour.
Due to our early rise, Grandpa Mohawk's anxiousness and the prevalence of dry weather, we arrive at the Buckingham gates nearly a half hour early. The police at the gates tell us to just hang on and wait. Seems the morning staff was behind in the briefings so by the time they came out to get us, it is around 9:45. The London rush is long over and now the tourists begin forming, (disappointed to learn that this a month the guard changes only on even days and it is an odd one).
No worries. We just sit and watch noticing a curious little tradition the royals have in town. There's a small horse drawn carriage that runs
repeatedly between Buckingham and St. James palaces. The drivers are all in formal livery and it looks exactly like something you'd see in Williamsburg for tourist rides. Instead it is the official inner-palace mail service. (For those of you keeping track St. James is the official dignitary entrance where foreign affairs are handled and Buckingham is the official royal residence. So it's sort of like having a Pony Express rider taking messages between the West Wing and East Wing of the White House.)
Our only difficulty of the day occurs at check in. We had called ahead two days ago to arrange the tour via Antonio our concierge. But there's no record of our call. Looking up the reference number we discover the agent on the phone booked Sunday instead. Of course we panic assuming they'll turn us away, but instead they rapidly issue new tickets, apologize profusely and usher us directly through the gates... the first tourists of the day.
The tour is not exactly guided but rather narrated with the use of very handle headphones and audio guides. And they have special ones setup to give you instructions on where to go for access. So after a baggage check, we listen all about the central receiving courtyard where everyone from the Queen to dignitaries enter. Then we proceed up the 7 entry steps to the main level.
Yes, 7 more steps exactly layed out in the Georgian style as Apsley House. The difference is this place has a designated lift and ramp system for wheelchairs. When I tell them my disappointment of yesterday's outing all the wardens are surprised and disapproving of the lack of accessibility. In their words, if the Queen can do it, then there's no excuse. (Well at least it's good to know the attitude of the locals is in the right direction. There may be hope for London yet.)
We have a guidebook showing all the beautiful rooms inside but alas cannot take pictures ourselves. The highlights for me are seeing this house, originally purchased in the 1700's by George II then later remodeled by John Nash for the former Prince Regent George IV. It's filled with George IV's collection of art, antiques and furniture all showcasing the grandeur (and ostentation) of the Regency period.
Now George IV was a bit like Charles, they say. Eldest of the boys, fell in love with a married older woman, had a disastrous marriage to a
younger "suitable" princess, was a fan of all sorts of art and frequently mocked by the people. He had this habit of overspending his allowance so much that Parliament frequently scuffled with him. They held back just enough money that George IV never lived long enough to see his palace masterpiece finished. Instead it fell to his niece, the great Victoria Regina.
So through the staterooms you see a mixture of George IV's regency style and Queen Victoria's lush gilt. There's the usual stuff: an art gallery (with the royals' favorite places snapshots), drawing room (filled with wedding gifts and bric a brac they brought home from vacations), dining room (lined with family portraits), music room, and of course the Grand Ballroom (where knights are knighted and the heads of state come to party). The Ballroom is of particular interest for the sake of the 200 yr old organ installed at one end. It had only recently been restored to playing order for the first time in 100 years.
Last but not lease we see the royal Throne Room and notice some of those seats are looking a bit tatty. But there's a throne for QEII and even one for the old George IV. I should also like to mention the special exhibition in the front drawing room. This November marks the Queen's 60'th wedding anniversary. Back in 1947, her marriage was the first time Great Britain had something pleasant to celebrate after the horror of WWII. So the Queen wants to remind everyone of the happy occasion by putting her wedding finery on display. There's her dress, bridesmaids dresses, her jewelry and even some of the gifts her subjects gave her. Everything from a beautifully carved wooden desk from India to a Singer Sewing machine from the Scots. (Practical people, the Scots are.)
Our tour ends in the balcony overlooking the royal gardens. There are steps down but we're offered a choice: return to the ext and leave or ask for a buggy ride to the garden. We opt for the buggy ride (a cart pulled by a golf cart) and get the royal tour out the Buckingham gates and around to the Queen's private entrance. The tourists take pictures of us. All funny really. Along the way we see the private apartments and the Queen's indoor swimming pool. (Somehow I just can't imagine any of the English swimming.) If you look to the right of the palace picture below, the Queen's pool is in that smaller column-lined building. Grandpa Mohawk poses in her backyard while she's vacationing in Scotland.
Our tour concludes with a walk through the gardens where we make an amazing discovery. As we strolling through the wild English landscape of ponds and fauna, we realize it all looks amazing like my uncle's farm on the Eastern Shore of Maryland or even the country fields of our home. The main difference is that we actually have more peace and quiet than even the Queen. No blaring sirens or constant murmur of cars.
We follow the path and wind up on a side street where we decide it's time to delve into this London bus world. The nearest stop lists a bus headed back to our hotel so we hop on. Now they say that while the Tube is not accessible all the busses are. And they are not lying this time. The procedure is simple. Stand at your stop, when you see your numbered bus come up flag down the driver. He nods, closes the ramp at the rear, deploys a ramp then lets you board. There are no time-consuming tie downs here, so it's just a matter of parking yourself against a back wall and holding on.
The lack of tie downs is a much better way of handling it than what we have in the US. Instead it means we can truly just hop on/hop off. Which we do at Parliament Square/Westminster Station.
We're right by Tesco's so we grab some lunch, souvenirs on the bridge and back to the hotel for a mid-day break. It's 2pm by the time we get settled. We're both so exhausted from the early morning, we crawl into the nearest warm cubbyhole and snooze.
5pm we're up again to get ready for the theatre. The show is at 7:30 in Soho, about 4-5 miles away. But Grandpa Mohawk worries we'll be late so we set out at 6pm. We're hailing a taxi for this, which the concierge takes care of for us on my way out of the building.
The ride is quick and the cabbie more than cheery. When we say we haven't found any street signs and found it all confusing, he pointed out where the signs are: as placards on the side of the buildings at every intersection. That combined with an A-to-Z map book we'll prove our lifesavers later on.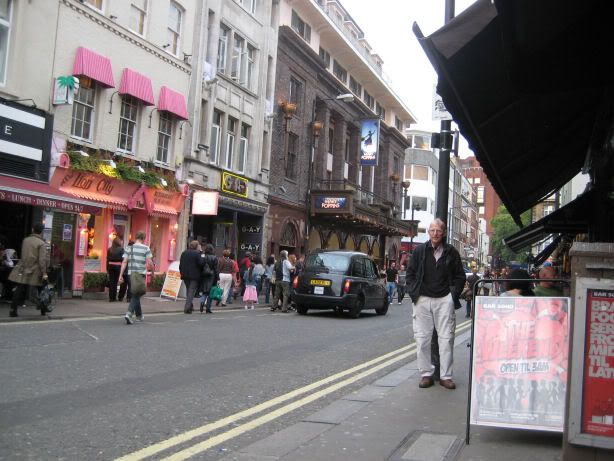 We arrive at the Prince Edward theatre promptly at 6:30. The box office gives us our tickets and introduces us to Allison, a Canadian immigrant (and budding theatre actress) who will be our designated accessibility guide for the night.
We have time to kill so we walk the streets of Soho a bit. It's so crowded with people that many streets are closed down to cars. There are pubs, bars, nightclubs, little shops and theatres everywhere you step. It's a mad chaotic affair and yet it all seems to work. Now they say this is an area where trouble happens, but by and large the crowd is very festive. (Yes, at last we see Londoners in a good mood. It may be that it's stopped raining, Friday's come and/or it is the start of a 3 day bank holiday weekend.) It's also warming up.
When we head back to the theatre, Allison directs us around the corner to a special entrance directly onto one corner box. There's a flight of stairs for a private loo and the rest of the box is ours alone. Allison stays a bit to chat and promises she'll be back at intermission to fetch our drinks and whatever else we'd like. The house darkens and the first we see is Bart the Chimneysweep as played by a true Londoner with a proper Cockney accent... not the travesty locals say Dick Van Dyke used. (I do believe Dick van Dyke is on a most wanted list here, because if you just say his name Londoners wince. Doesn't matter what social class they come from either.)
You know the story of Mary Poppins, but this stage production takes it one step further. There are dancing statues, sweeps who walk on ceilings, 3 hours of musical numbers (many brand new songs) and yes Mary Poppins flies, several times in fact. The production ends with a rousing ovation, something that really echoes in this tiny yet 1000-seat capable theatre. (The theatre design is straight up a multitude of balconies. It makes the sound reverberate in ways you're just not used to at home.)
Allison has indeed tended us at intermission and returns at the end to escort us out. She's a charming young girl. Seems two years ago when she was graduating high school she decided she would begin her acting career by up and moving to London. She comes from British Columbia, a small farming town. So you can imagine her parents' reaction when she announced she was moving. At least she came with a friend and has had an adventure she'll never regret. Alas it is time for her to return home. She's flying back next Friday as well, plans to take her SATs and head off to a US college. We wish her luck and hope to see her in the theatre one day.
From there we try to follow the cabbie's directions to the taxi hailing station. Instead we get lost in the crowd. It has more than tripled since we arrived 3 hours earlier. We stumble along a few blocks then conclude the only thing that can save us from peril or sheer embarrassment is our handy A- to-Z London map book. Cousin K (the one who lives in South London with hubby J) tipped us off to this little treasure months ago. So I ordered a copy from Amazon and stowed it away in my backpack in the event we get thoroughly lost.
We whip it out, study the street signs on the buildings and discern where we are. We head toward one circus for a cab, see the busses, and wind up in Piccadilly where we find a bus headed our way. The busses are free for us (a lot cheaper than the 10 quid we paid the cab) and fairly easy to hop on.
Hopping off can be a bit of a problem in the busy times though. By the time we get to County Hall, people are packed in like sardines. We ring the stop bell, Grandpa Mohawk meekly calls out and I groan. But the chatty Londoners take pity on us and all call out for the driver's attention before he can speed away from our hotel.
And now we're home, having a good day but being absolutely exhausted.
Tomorrow we sleep in and wait for Karen & Jamie to find us. What we do is still TBA. Weatherman says it'll be in the 70's tomorrow and sunny. We're still packing our umbrella. Hope you all have a good final weekend before school!
BroganMc