Day 3: Accessible You Say? (Why it's good to be an American)
Thursday, August 23, 2007
Hello again from the very wet London!
Day 3 was what we'll lovingly call our day of awakening.
The plan: get up early and walk to the Banqueting House (where Charles I got his head lopped off and thus began the modern Parliamentary British government) and Apsley House (the nation's gift to Wellington after Waterloo, later to be fenced off with iron because the people turned on their beloved leader as PM).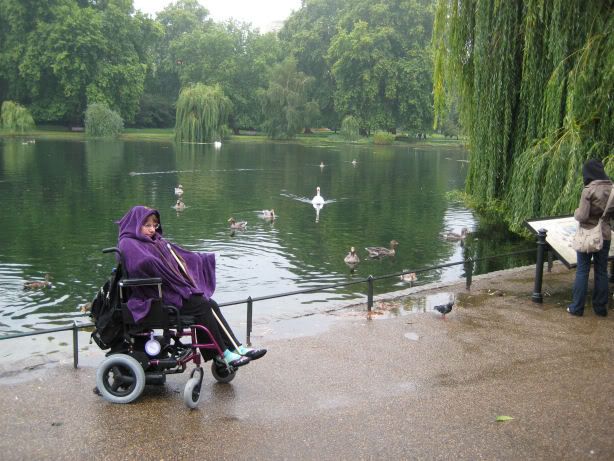 According to the research I did beforehand, both places were billed as "wheelchair accessible". According to the weather forecasts (TV and Internet) it was to be "dryer and warmer than yesterday, with sun appearing by 4pm".
Conclusion: Londoners love to lie, then pretend they never said that in the first place. Silly foreigners, you should know better. (I begin to see why Benjamin Franklin frowned on the English and ultimately supported the revolution. Maddening bunch the Brits can be.)
The sun rose but the clouds did not lift. Still we managed to drag ourselves out of bed (ok we slept in a bit and didn't manage the feat until noon, but you should have seen the skies all morning long). After donning our three layers of clothing, map in hand we headed out for the day.
I should note that the hotel we're staying in is a lovely Marriott but is placed within a "listed building". Which translates to mean accessibility for the disabled is not only an afterthought but deemed a threat to historical preservation. This means to exit and enter the hotel, I must grab one of the concierge staff to escort me through Members Only elevators, key-coded passages and up a short lift. It's not that the building has no wheelchair accessibility, it's that none of it is easily or independently done. They tell me the reason is that management rents out the space to a myriad of business and must "control" access through the corridors. And of course building a ramped walkway entrance to the 1st floor (even in the side wings where a lovely modern wrought iron multi-floored balcony has been erected) would "damage the historical preservation of the building.
Ok, I'm beginning to understand the history nuts have just gone completely bonkers in London. The rest of my day's activities will prove that.
So after being let out of the building, I step onto the pavement of Westminster Bridge (pavement is what they call the sidewalks here) and right into a much heavier drizzle than yesterday. As we walk, the rain gets progressively harder. Not a good omen.
Still we manage our way down past Parliament Square, then Parliament Street into Whitehall (discover the Red Lion pub along the way... the sidewalk cafe is accessible, alas the interior has several steps and rain makes the sidewalk unusable) and finally to the Banqueting House. Now I had a guidebook written by an American that said this building was not accessible. But when you go online to the official Royal Palaces website and inquire they say the building is accessible via an adjacent building's lift. Arriving I find that is only true "by prior engagement". I.e. I must be the Queen Mother and have my royal attaché arrange the feat well in advance. But the chap at the desk does whip out a ramp to get up the one step into the ground floor so I can tour an art exhibit in the basement. A modern art exhibit that is. Nice stuff but not the Rococo ceilings I was looking forward too. I tell Grandpa Mohawk to go on up and see what I can't, but bless his heart he refuses. It just isn't the same without me. (It is so nice to have an able-bodied companion who suffers through the barriers alongside you instead of leaving you behind.)
We brush it off and continue on to Apsley House via the royal parks laid out some 200 years ago by my favorite Prince Regent (or rather his time period I love so much). First we head through the Horseguards Parade and watch the young, decked out soldiers doing their best statue imitations. (These guys are so good even their horses remain stock still.)
Then we cross in St. James Park, which acts as the Queen's front lawn. It's an absolutely gorgeous park filled with beautiful paved pathways, a manmade (more or less) pond brimming with a dozen or more species of birds, and sprawling English garden flowers. In the center is a little restaurant cafe called the Inn at the Park. The rain starts coming down so hard now we duck inside for something hot and sweet. (Hot chocolate has become my drink of choice on this mid-day breaks.) Seems about 1000 other tourists had exactly the same idea so it is packed. Still we manage to grab a table out of the rain and debate how poorly advertised the royal Banqueting House is.
Next we continue on north, around Buckingham Palace, skirting Green Park along the Mall, through the Wellington Arch and finally to Hyde Park Corner to #1... Apsley House.
We find the entrance behind iron gates and up 7 steps. Yes, this supposedly completely wheelchair accessible museum has half a flight of stairs to gain entry. Wait, it gets better. Grandpa Mohawk bravely inquires within while I wait in the cold drizzle. He returns a few minutes later shaking his head. Seems the chap inside said the museum is accessible for wheelchairs granted one can walk up those 7 steps and then down another 7 to use the lift within. They'll happily loan me a manual push chair but I must leave my $5000 electric powerchair outside in the rain. We laughingly tell him going up then down steps to use a lift is absolutely NOT wheelchair accessible. His retort is the usual London historical preservation line: we can't destroy the appearance of the exterior.
Ok, having just come from Williamsburg, Virginia where I happily toured structures at least 50 years older than this mausoleum and seen lifts magically materialize out of the stone floor, I must say Londoners have absolutely no creativity when it comes to accessibility. I begin to see why the disability advocates here are in a war with the city regarding its upcoming 2012 Olympics (which includes the Para Olympics). There will be a ton of wheelchair users descending on this city in 5 short years and London will get a royally black eye in the PR department unless they wise up.
Yet again I tell Grandpa Mohawk he can go in without me and yet again he refuses, though both of us feel the disappointment now. Our two goals are ruined for the day and it's only 2pm. So now what do we do?
Well we whip out the tourist map Antonio the Concierge gave us and see Harrods is only a short walk away. It's something indoor and apparently a must-see tourist attraction. After debating whether to take a bus (and discern which bus line goes there) we decide just to walk. You know what happens next on my day of accessible frustrations. Halfway down Knightsbridge we discover that this luxury apartment lined street has no curb cuts.
So we backtrack, cross over to the Hyde Park side and stroll down that way. Westminster is a fairly easy place to navigate but Knightsbridge is a sprawling mess of Victorian over-building and modern reconstruction underlined the world's worst traffic patterns. It's like the worst of Washington D.C. but with New York drivers (all speed).
After taking a wrong turn, asking, backtracking, we finally manage to find our way into Harrods. For those of you only vaguely familiar with the store, it's owned by Dodi Fayed's papa, takes up a full city block and is officially one of the most confusing department stores you will ever see.
It's not really one building but rather a mishmash of buildings hobbled together over 6 floors. They give you a map at the entrance because otherwise they may find you come next Christmas. Well by this time our bladders are killing us so our first stop is the nearest accessible loo. We ask directions but it seems even the staff doesn't know where anything is. We get sent down to the wrong floor, figure that out and wander back upstairs. I'm happy to say we find an accessible loo but not where the map is marked. Still it's a decent loo, kept clean by an eager attendant. The only trouble is that things are crammed together in a bizarre way so if you truly need an accessible toilet because you can't use your legs, I highly doubt you'd be able to transfer seats. But I have little problem.
Relieved at last we decide to wander about the building a bit and see about getting some lunch. It is near 4:30 by now. There's a "deli" marked on the 5th floor map. This of course involves going down one elevator, walking through the block, then up another elevator and getting thoroughly lost again. We ask directions, are directed toward a stepped walkway (you go up three steps, walk a short hall, then go down three steps... yes Londoners really don't have a clue). We ask again and finally someone gives us an escort through the perfumery to the deli.
Now to an American a deli usually involves sandwiches at fair prices. Perhaps a bowl of soup or chili. To the Fayed's, a deli is where you can get a gourmet hot dog for about 7 GPB ($14). Our stomachs weren't that empty we decide and make our way down to the nearest exit. (Along the way throughout we have been looking at the merchandise. It's a mixture of food, perfume, designer clothing, bizarre exercise equipment, and the usual Nordstrom's stuff. Considering how well layed out an American department store and mall is, we decide Harrods is a place best left in the tourist books. Still it was an adventure getting lost in Harrods.)
It's 5:30pm now, height of the London rush hour and our bus passes are not good. My chair is reading only yellow lights now, but we decide it's probably quicker just to walk back. So we bundle up and head back the way we came. Of course we get lost again in the traffic and end up on the wrong (inaccessible) side of Knightsbridge. But we're just too cold, too wet and too hungry to backtrack for the long way. So instead we push on and tackle those curbs like little Mt. Everest's. Some I power my way up with a strategic push and others I just race out into the bus lane before I get hit head on. (The bus/taxi lane here is the far left which is like the far right at home. And in certain spots it is perfectly empty as long as you don't dally. Of course taken them during rush hour in the rain is always a daredevil escapade.)
By the time we get to the Wellington Arch we've discovered something else about Londoners... even the cyclists love to speed. We wait at the light and watch as 6 cyclists abreast overtake the pedestrians at the crossing and barrel down the pathway. (I'm beginning to appreciate the cyclists littering our country highway now. At least they try to get out of your way.)
Oh well, onto our lovely royal parks where Grandpa Mohawk notices something I remarked upon yesterday. There's a certain tradition back home, they say it's a Southern thing. You know how you can walk down the street, make eye contact with a passing stranger and exchange smiles? Well don't try it in London. You'll look, smile and get nothing but stone faces. I've heard it said that this is because they are simply too busy racing home, or perhaps because the weather is miserable. Still it's odd that when you go through the streets of London the friendliest pedestrians are the foreign tourists. Almost feels like the locals truly don't want you here. That is a very foreign thing to this Southern Belle. What is the harm in being pleasant, I ask you?
At least the birds are friendly. They come out to greet us and beg for food.
By this time our stomachs are growling too, so we head back to that lovely little park Inn. It's turned into a nighttime restaurant. It's warm, the food is good (although a tad bland and pricey), and it's a lot more conducive to talking than the trendy pubs of Southwark. We stay for a couple hours, discuss our American vs. London expectations and study our maps for future journeys.
By the time we set off for home, I'm down to 2 yellow lights (about half power on my wheelchair). The Horseguards are long closed so we take a detour toward Trafalgar Square. Here you can see Lord Nelson standing guard atop his column with the National Gallery just beyond. (We'll learn later that Lord Nelson is looking out across the path to Westminster, guarding his beloved England from future invaders.)
The nighttime traffic is worse than rush hour what with the speeders and lift of the Congestion charge. The streets are diagonal and there isn't a street sign to be found. But after consulting the map, navigating by landmarks we find our way back down Whitehall and Parliament Street. We think we find Downing Street but it's nothing much to look at. Just some tall fences, barriers and a nondescript row of townhouses.
My power is on one yellow light so getting home is a priority. (When I get down to just reds I have about 1 mile's charge tops.) Grandpa Mohawk wants to pick up more muffins at Tesco's and we dare the traffic to get to Westminster Bridge. It's beautiful at night around here. Big Ben is all lit up, as are the churches, County Hall and London Eye. The rain has finally stopped so we stop to take pictures of the night sky.
At last we arrive back home at 10:30pm, get my escort upstairs (the concierge kept an eye out for me and came running out) and return to our warm room where I have just red lights before I plug in my wheelchair charger (it's been charging the entire time I've written this).
So even though I didn't get to see the Rococo ceiling depicting James VI as some divine king and didn't manage to take a picture of Grandpa Mohawk standing next to the naked stature of Napoleon in Wellington's house, it's been an adventurous day. The kind of days that make you appreciate just how much you have at home.
I know we often here the difficulties old churches and shops have with the government regs on ADA, but being in a foreign country you appreciate how anal America is on this. Perhaps it's thanks to all those lawsuit happy lawyers or the active aged, but America by and large is excellent when it comes to public accessibility. At least when it comes to entering and exiting a building.
Now to bed I must go. Tomorrow we have an early call at Buckingham (9:30am) then a late night at the theatre to see Mary Poppins. Hopefully things will go more accordingly to plan. And perhaps we might actually see the sun for a change. Well I am ever the optimist.
Take care!
BroganMc and Grandpa Mohawk, the traveling minstrels
P.S. For those keeping tabs, our distance traveled today by foot is 6 miles. Here's a Google map to show our journey.
http://www.gmap-pedometer.com/?r=1255435