Day 2: A Day in Parliament
Wednesday, August 22, 2007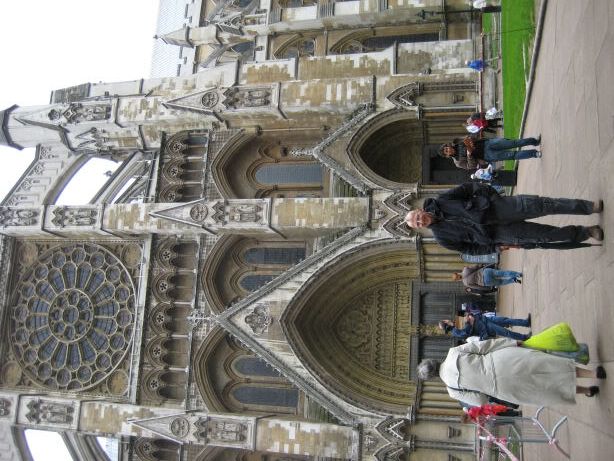 Hello again from the land of London Drizzle
It's us again,
By now you all are looking forward to getting out of work and heading home for supper. For us the day has come to a close and what a dreary day it's
been.
Woke up this morning to the regular morning newscast. The big news: there was actual sun in Wales while the Southeast corner of England (i.e. draw a bulls eye around where we are at the moment) was to be "unseasonably cold, overcast and rainy". Just the southeast mind. Even Scotland had a warm day today.
So we layered on our t-shirts, long pants and sweaters (boy am I glad I brought my fall/winter cloak) and out we went. Highlights of the day:
- a traditional English breakfast at the hotel (they actually eat baked beans for breakfast... why I ask you?).
- arrange for a tour of the Queen's house (on Friday)
- Cross Westminster Bridge and the throng of foreign tourists, as well as the souvenir hawkers and speedy London traffic (en route we discover two pubs which served the same breakfast for 1/3 the cost of the hotel and a Tesco's Express for cheap munchies)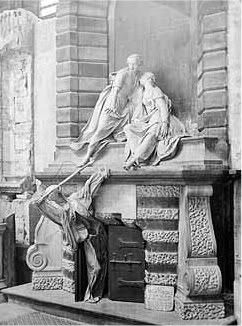 - Tour Westminster Abbey (which involves stepping over a lot of dead people, nearly being trod on by tourists oblivious to all but their audio guides, and a lot of monuments to Englishmen great and small. Grandpa Mohawk especially loved the Lady's Chapel where Elizabeth I, Mary Queen of Scots and Henry VII are buried.
I was moved by the tomb of a man named Nightingale. Seems he lived in the 1700's and lost both his wife and son at young ages. He went on to live to the ripe old age of 54 and upon his death had this sculpted tomb erected in St. Michael's chapel. It pictures a skeletal Death climbing out the crypts from Hell to spear his poor wife to death while Nightingale tried in vain to defend her. The beauty of this tomb is striking in his tragedy. Nearly 20 years after the deaths of his family, the man chose to immortalize himself doing what he could not in life... save his family from death.)
- Tea break in a genuine English pub. It's a little place called St. Stephen's Tavern and across from Westminster Hall. When I say little I mean "not enough room to swing a cat" but good, cheap prices. We could have gotten a big lunch for about 5 quid, but instead settled for a couple hot
drinks. Anything to get out of the cold and rain for a bit.
- Next came the 4pm tour of Houses of Parliament.
Britain's Parliament (commonly called Westminster) actually resides on the grounds of an even older palace dating back 1000 years named Whitehall. As with much of Europe, the original structures have been destroyed, rebuilt, destroyed and rebuilt again. But if you look carefully, you can see remnants of those old structures. For instance, here is the sole surviving structure of Whitehall: the Jewel Tower and beside that we have a bonafide medieval mote (now a drainage system)..
Parliament is not in session at the moment so the entire complex gets turned over to tourists. Since I asked for a bathroom break beforehand, I got the backstage tour of the building and escort of a Polish student (who speaks with a perfect English accent) to the center of Westminster. There was a lot of backstage access for me and opportunity to talk to the various guards and guides about the lesser known areas of this 150 year old, 1000-room building.

First we toured the Royal Dressing room where the Queen prepares to address Parliament every year. Then came the gilded House of Lords, the plainer House of Commons and the mix of Victorian grandeur and 1940's economical reconstruction. An interesting tidbit of custom. Seems the monarch never sets foot in the House of Commons. The last one who did was Charles I who came to arrest 5 outspoken MPs. A few years later, those same MPs returned the favor and had the poor sod's head lopped off. (I nearly join him when I'm caught snapping a picture of GM, oblivious to the "no photographs" rule.)
The tour ends in another surviving structure of the old Palace of Westminster - Westminster Hall. This is what lies beneath Big Ben, one giant medieval Great Hall. In times past, this hall had seen the celebration banquet for every coroneted king and queen of England. That is until the unpopular but great partythrower George IV ascended to the throne. The year was 1821 and the former Prince Regent (son of our Mad King George III) held a bash so lavish that everyone wanted to attend. There were the invited nobles and dignitaries served delicacies from around the kingdom. And all along the walls in rough-hewn bleachers sat the poorer folk who paid admission just to watch the wealthy dine from the cheap seats. Admission did not come with free food for them. But ever so creative, the poorer folks came prepared with ropes and baskets. They'd lower the baskets for the equal-minded servants below to toss in a few snacks from the abundant table and real it in. After all, the wealthy below were too sated (and probably drunk) to notice. But when the silverware and dishes started disappearing too, Parliament decided to put an end to these lavish coronation banquets forever.
- By the time we finished with Parliament it was near 6pm. Traffic all around was fierce resembling a bad New York day with speeding cars and blaring horns. We did manage to stop off at Tesco's (a supermarket chain) for some hotel room snacks (about 5 GBP), then down the Victoria Embankment toward the Eye.
- Alas it was far too cold and windy and our stomachs growling too much to bother with the Eye. Instead we crossed Chichester square and stumbled onto the Slug & Lettuce pub. (A place a friend of my brother's raved about.) It's a nice place. Cheap prices but more of a trendy restaurant-style pub. Still the food was good and chocolate hot.
So now we've settled home again, happy we left our heat on and our bodies feeling like it is a very late 10pm.
Tomorrow we tackle the busses and see exactly where poor Charles lost his head. The weather is supposed to reach 71, but even the locals aren't
believing that forecast. Until then, take care of yourselves. Until the next notable update...
BroganMc